Guide to Properly Dosing Beneficial Bacteria Powder, Essential Salts & Minerals, and Water Conditioner in Small Fish Tanks (Less than 60L):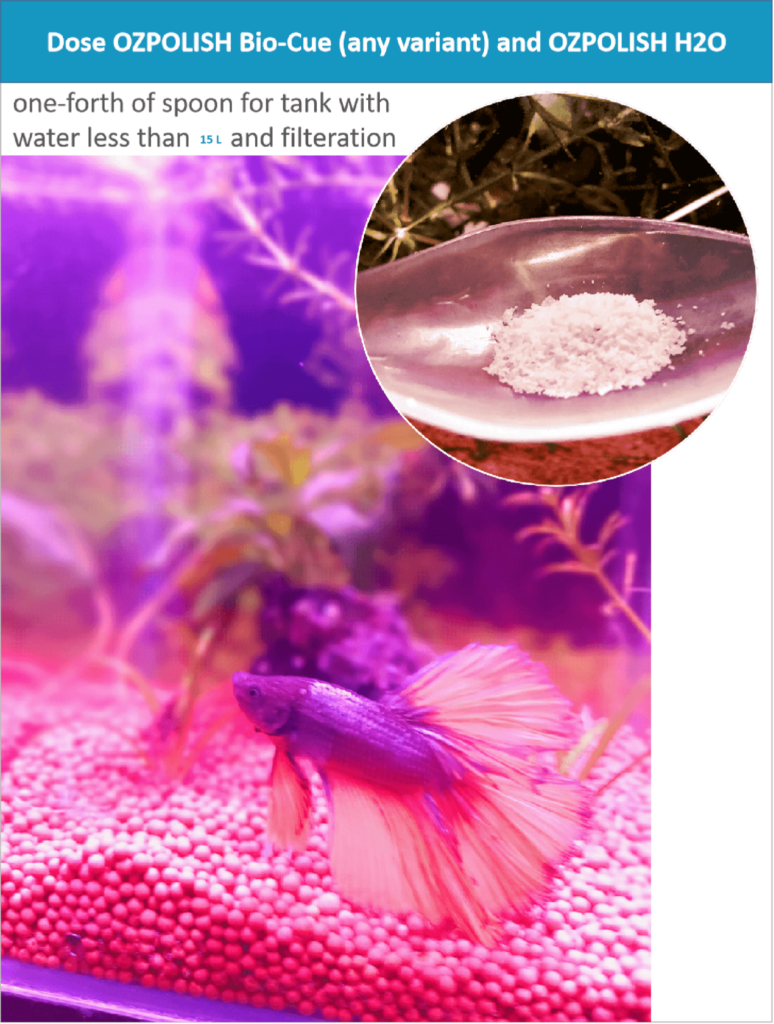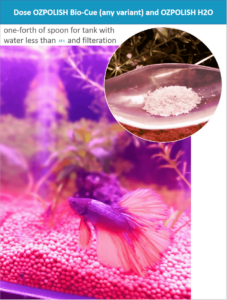 Introduction:
Maintaining a healthy Betta fish tank is essential for the well-being of the fish and the overall health of the aquarium. However, dosing beneficial bacteria powder, essential salts & minerals, and water conditioner in a small fish tank can be challenging. It is essential to get the dosage right to maintain a balanced ecosystem.
Dosing OZPOLISH Bio-Cure (any variant) and OZPOLISH H2O could be very useful and could be an important part of maintaining a healthy Betta fish tank. It could also be the most difficult part to get right. It can be challenging to figure out how much to dose and when.
Maintaining a Balanced Ecosystem:
The key to a healthy, thriving aquarium is a balanced ecosystem. In order to maintain this balance, it is important to monitor the water quality of the tank. There are several ways this could be done, but one of the most common is with test kits, mostly used to estimate pH, TDS, or the levels of nitrogenous wastes, such as ammonia, nitrite, and nitrate. High levels of nitrogenous wastes could cause a situation of "fast" bacterial bloom in a fish tank with no filters installed. Similarly, an overdose of salts and minerals could drastically alter the water TDS (Also Check).
Dosing Beneficial Bacteria, Essential Salts & Minerals, and Water Conditioner:
It is important not to overdose on either of these because it can cause a bacterial bloom in the tank or suddenly impact the water TDS, which could be bad for the fish or other water lives, including plants. And you want to avoid that at all costs. In the case of the balance of beneficial bacteria and essential salts/ minerals, the first step is to balance the tank's ecosystem by identifying any problems with the water source (e.g. underground water, municipally supplied water, etc.) and the water quality. Once it is known what needs adjusting, necessary changes could be done accordingly and monitored how they affect the tank's health as time goes on. Considering the fact all tanks are different, these necessary changes are part of estimating the right balance for a particular tank. So is true while using OZPOLISH Bio-Cure and OZPOLISH H2O before and after adding it in a setup of a Betta fish tank without a filter.
OZPOLISH Bio-Cure and OZPOLISH H2O Dosing:
When it comes to dosing, the best way to dose OZPOLISH Bio-Cure and OZPOLISH H2O in a Betta fish tank without filtration is by using only one-fourth of a spoonful every week on the same day, depending on the volume of the water in the tank and how often water changes are performed (20-25% weekly in most of the cases). Despite all the measures, in cases of bacterial bloom or too high water TDS, 50-70% of a water change should be done.
The electrolyte in the essential salts of OZPOLISH H2O will aid in keeping the fish healthy. The mineral will help keep the water mineralized to the extent possible as in nature. Salts can reduce the water's pH level, which is important for good bacteria growth in 2-4 weeks, and stay settled down thereafter.
OZPOLISH De Chlorine and De Stress Usage:
It is inevitably required to assure that the supplied water is chlorine-free. For this OZPOLISH De Chlorine could be used. A Betta Water Conditioner could be more of a gimmick, hence OZPOLISH De Stress could be used and is highly recommended after every water change. It is specifically designed to help condition the water quality of the fish tank. It as well helps the fish reduce any water change stress and also reduces any chances of external infection on fins, scales, or gills. An application of 3-4 drops of OZPOLISH De Stress in a fish tank with less than 15 L of water should be good in most cases.
Conclusion:
Maintaining a balanced ecosystem is crucial for a healthy and thriving aquarium. Properly dosing beneficial bacteria powder, essential salts & minerals, and water conditioner is essential to achieve this balance. With the correct dosage and monitoring, self-judgment of using the right product in right way, your Betta fish can stay long in his fish tank.